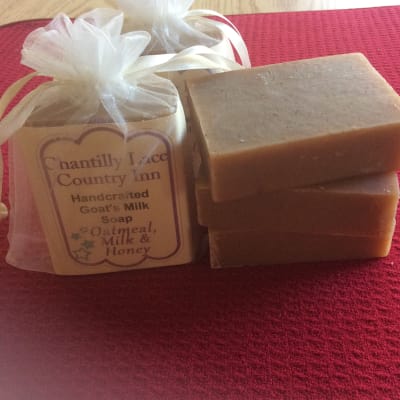 Natural Vegan Soaps & Goat Milk Soaps in Johnson City
Our handmade goat's milk soaps are handcrafted right here in Johnson City using only natural vegetable and tropical oils. NO ANIMAL FAT! Our skin nourishing oils include 40% olive oil, as well as coconut, palm, palm kernel, canola, almond, soybean and cocoa butter. Dried herbs, oatmeal, honey, and natural colorants are used as well. We also make wonderful candles. Take some of our vegan soaps home for yourself as a souvenir of your visit to Chantilly Lace Country Inn in Johnson City and some more as gifts for your friends at home!

We use a variety of essential oils and/or fragrance oils as well as the dried herbs which lend to the beautiful aromas found in our soap.
Goat's milk is used in all of our soaps. Goat's milk soap is one of the most popular handmade skin care products available today. Goat's milk: excellent moisturizing qualities and is an exceptional skin softener, very gentle and mild even for very sensitive skin, low pH helps the skin maintain a natural balance.
Chantilly Lace Soap contains no chemicals or detergents that may be harmful to your skin. Our soap is made in small batches using the old fashion technique called "cold processing". The ingredients naturally combine to form soap that produces and retains its own glycerin.
Commercial goats milk soaps makers create large amounts of soap. The naturally occurring glycerin is removed which results in soap that can be harsh and drying to the skin. Once you have tried our soap, you will never use the supermarket brands again. Each bar of soap is made, poured and cut by hand. Using this technique, each bar is unique; therefore, size and weight are approximately 5 oz.

We invite you to indulge yourself with Chantilly Lace Soap
Our handcrafted soaps are $5.50 each. Please note, sales tax is 8.25%.
MINIMUM ORDER REQUIRED THREE (3) Bars of Soap (any combination)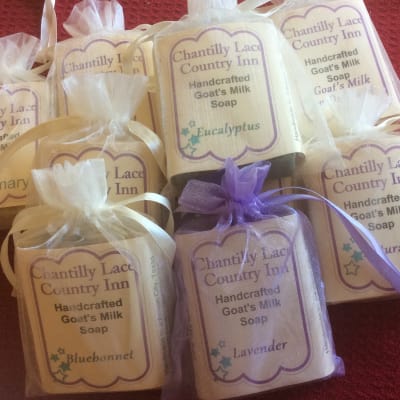 Order Soaps
Goat's Milk Soap (approximately 5 oz.)
Gentle cleansing natural soaps for smooth skin - Goat's Milk Soap with Oats & Honey, Natural Goat's Milk, Natural Orange Vanilla Goat's Milk Soap, Raspberry Goat's Milk Soap, and Texas Rose Goat's Milk Soap. Don't miss our wonderful Aromatherapy scents Lavender Soap, Lavender Swirl Soap, Rosemary Soap, Eucalyptus Soap and Peppermint Swirl Soap. Try our Pure and Natural Cleansing Soap, Oatmeal, Milk & Honey Handmade Soap.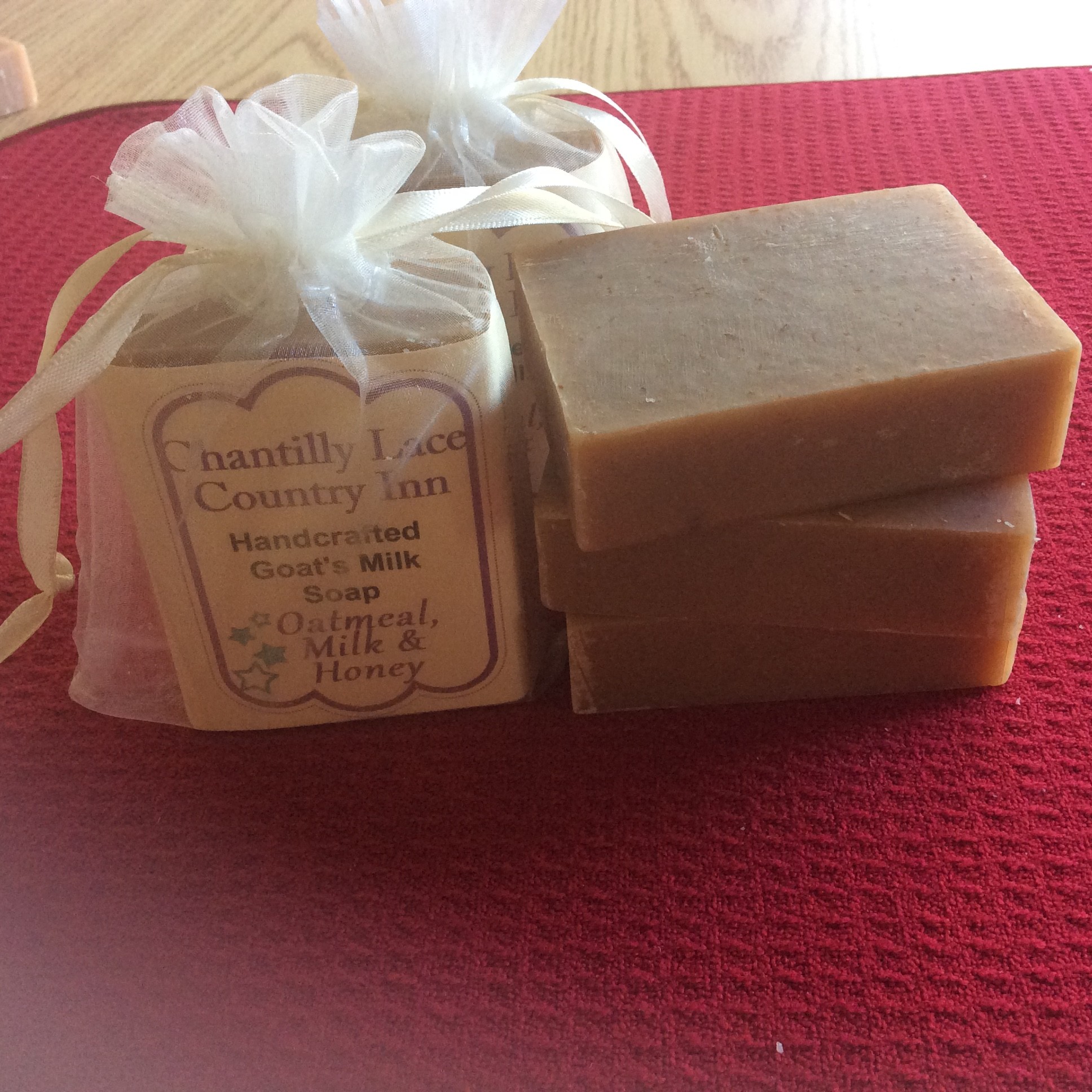 Goat's Milk w/Oats & Honey - Goat's milk with it's moisturizing and rejuvenating qualities - Oatmeal with it's gentle cleansing, exfoliating properties and Honey with it's skin soothing antiseptic characteristics; no wonder it's the most popular soap. Natural Fragrance - no added fragrance oils! $5.50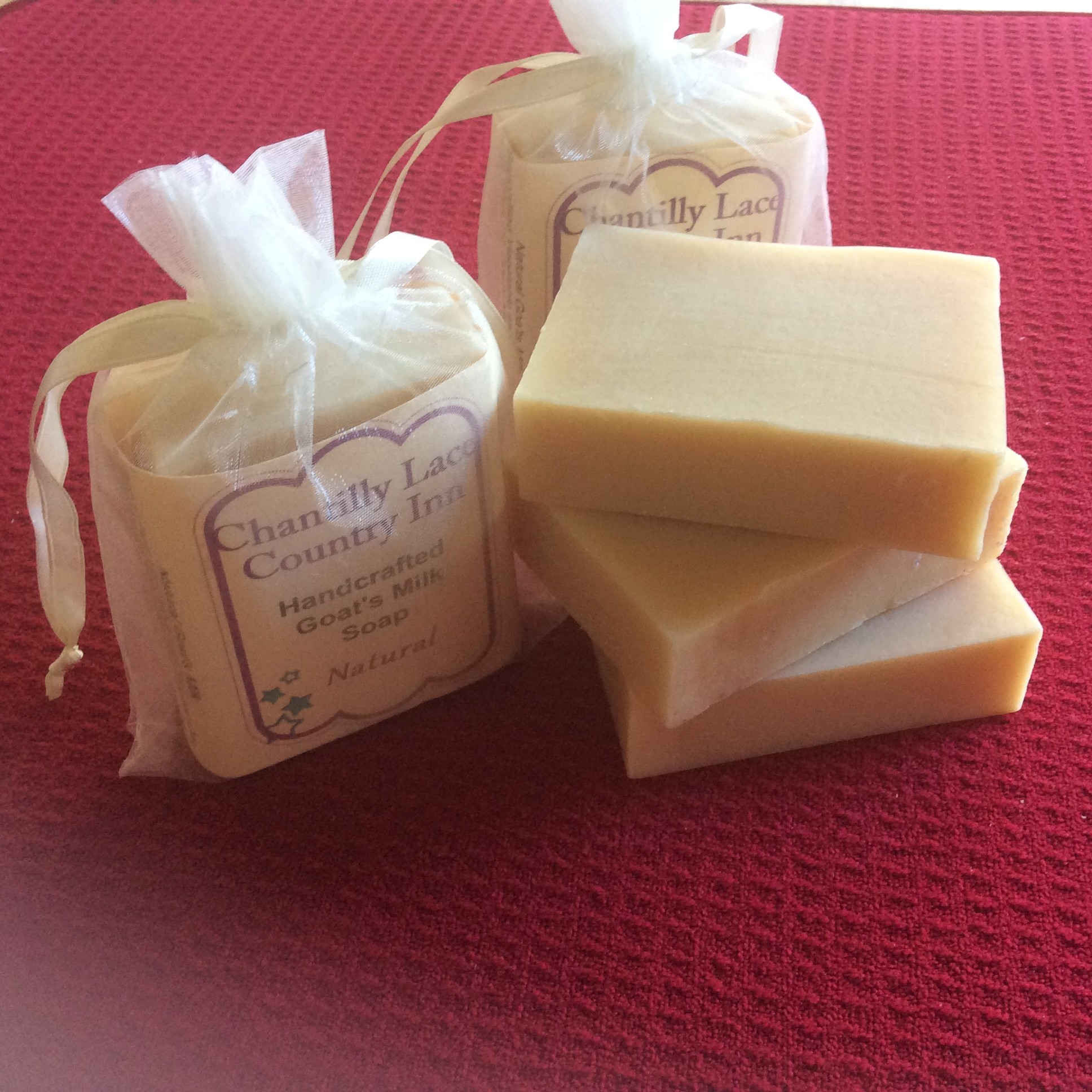 Natural Goat's Milk Soap - Nothing but the oils blended with goat's milk, making it even more gentle and mild. Natural Fragrance - no added fragrance oils! $5.50

Special Aromatherapy Scents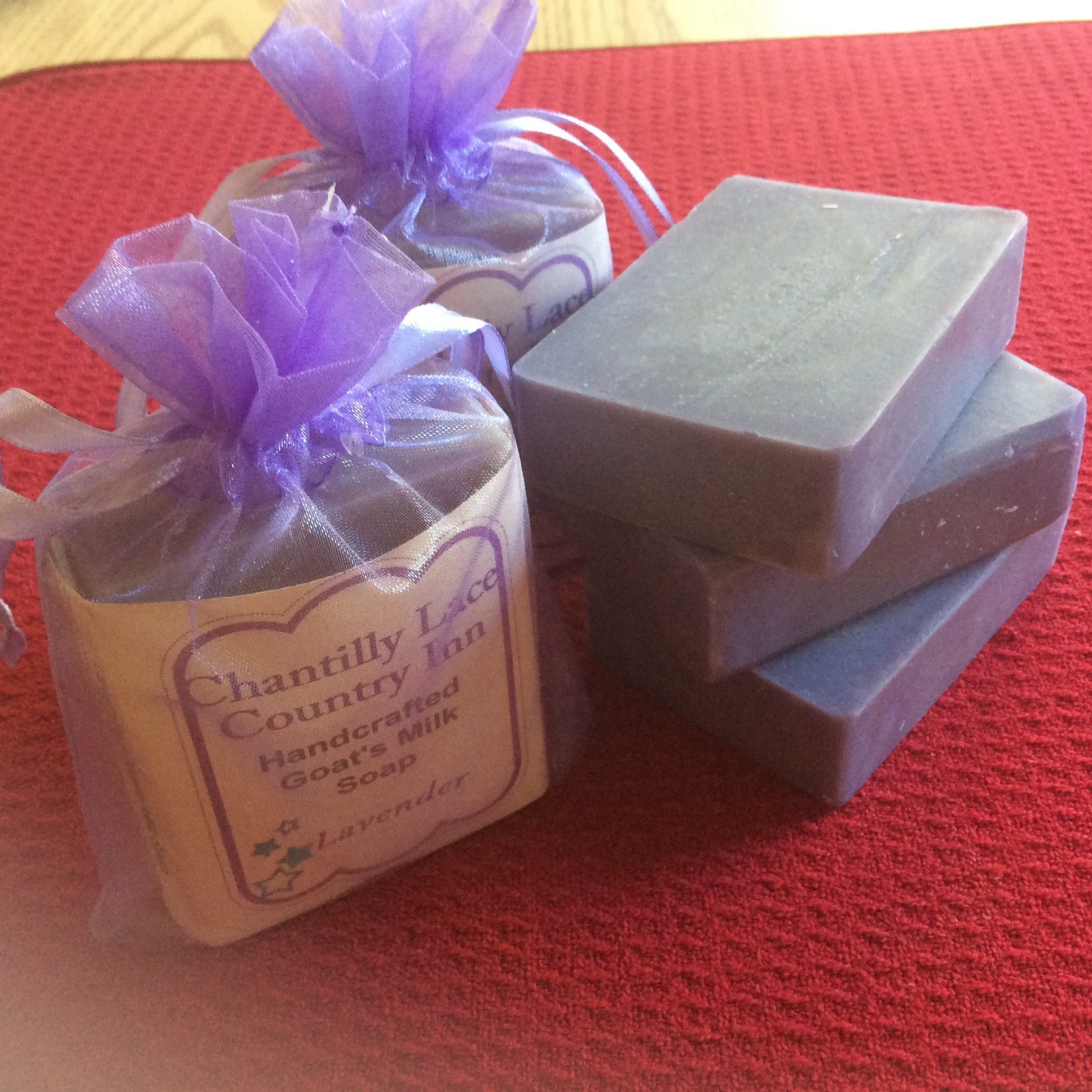 Lavender Goat's Milk Soap - lavender has long been associated with serenity and calm, with fresh, clean smells and an aura of luxury. $5.50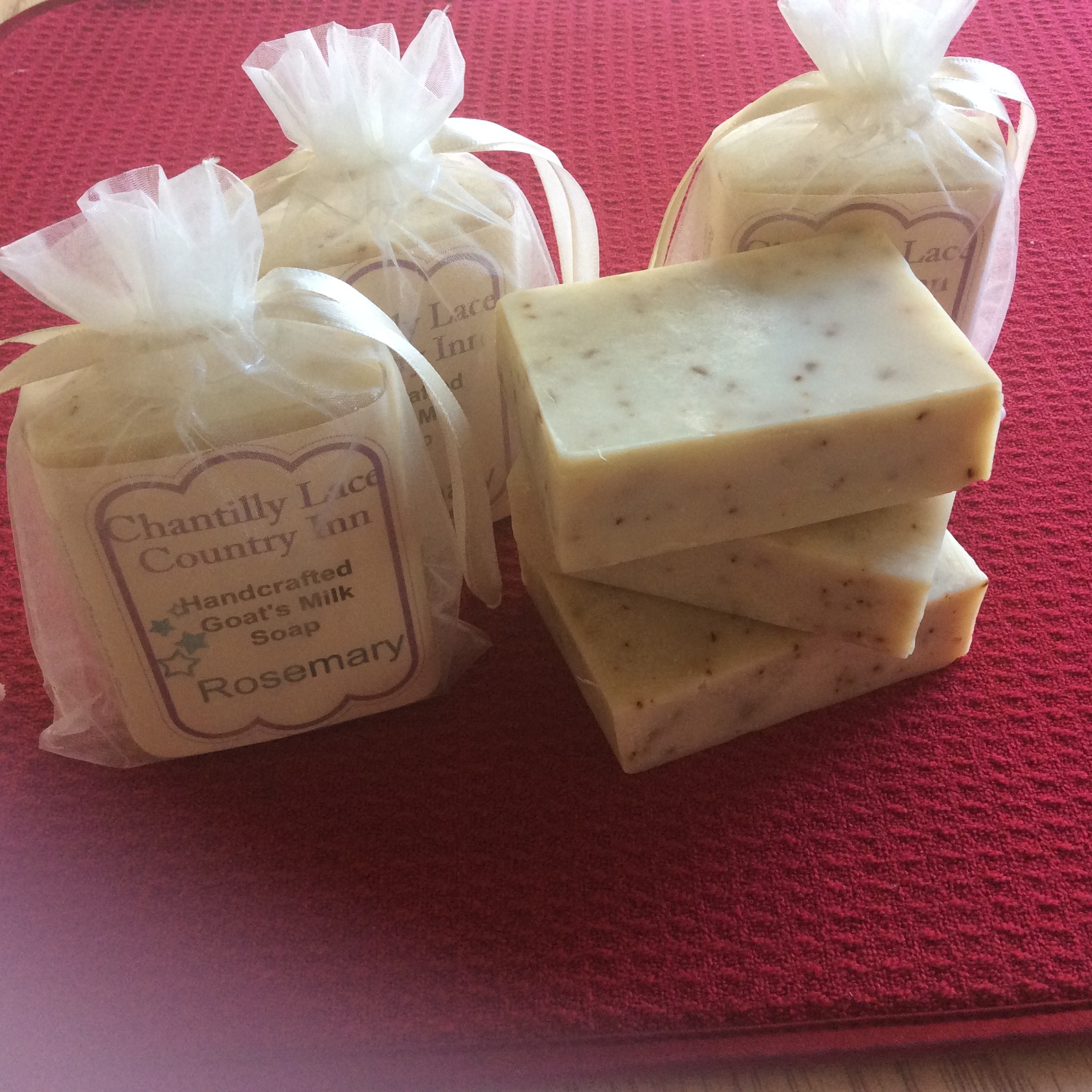 Rosemary Goat's Milk - can lift exhaustion, stimulate the senses and used to aid concentration. $5.50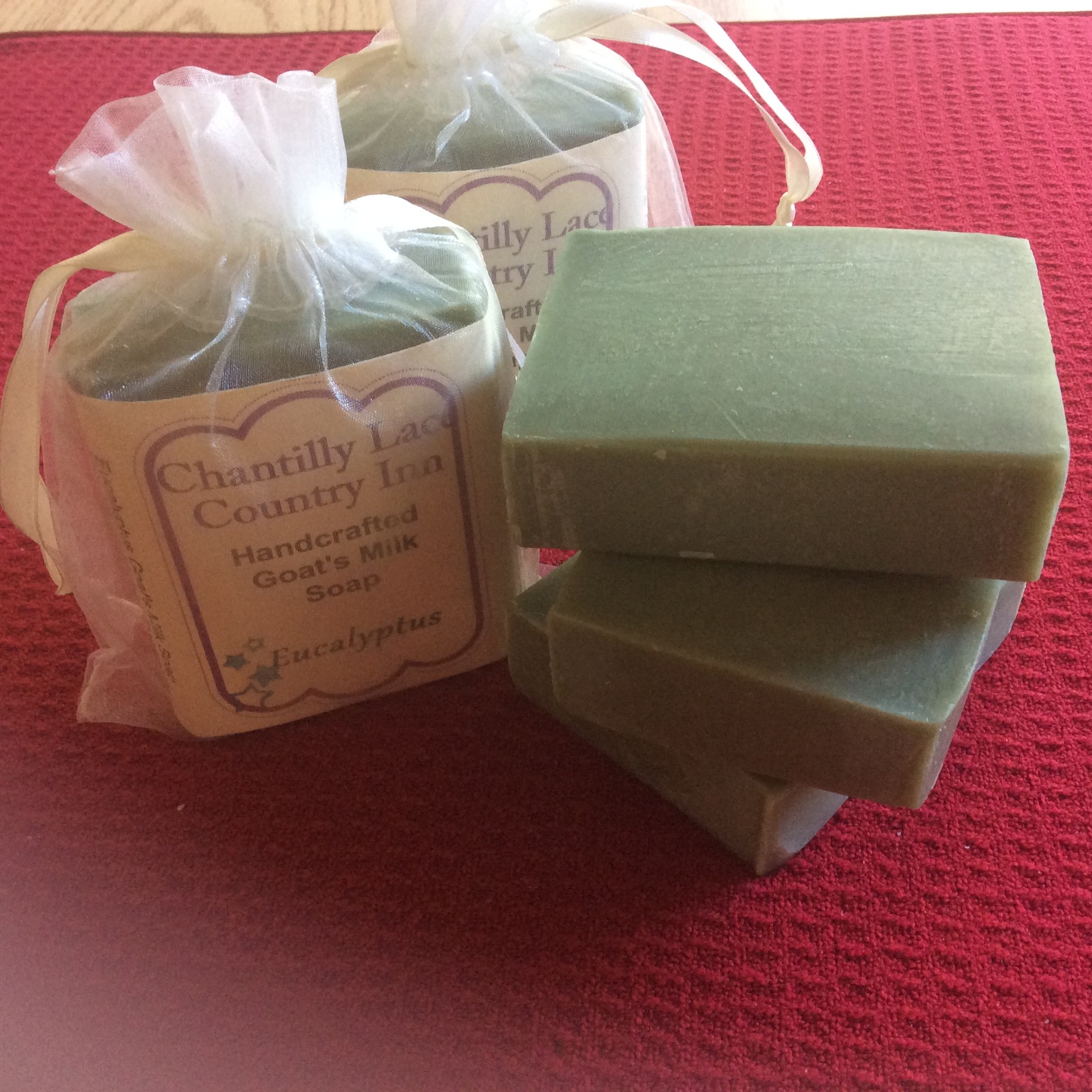 Eucalyptus Goat's Milk - the fresh aroma soothes colds, headaches and migraines.$5.50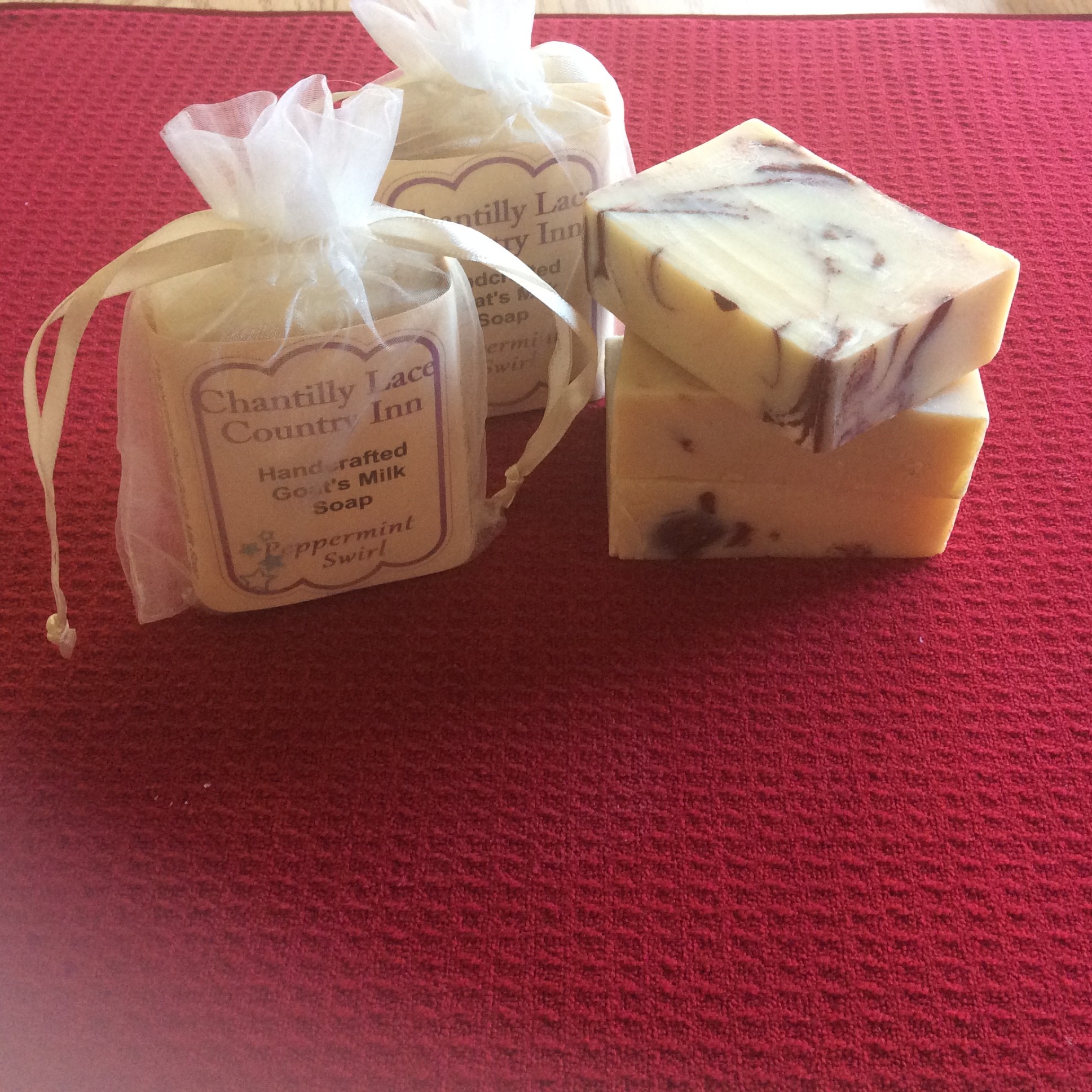 Peppermint Swirl Goat's Milk - the clean smell is invigorating and rejuvenating. Peppermint also soothes colds, headaches and migraines. $5.50

Other Pure & Natural Cleansing Soaps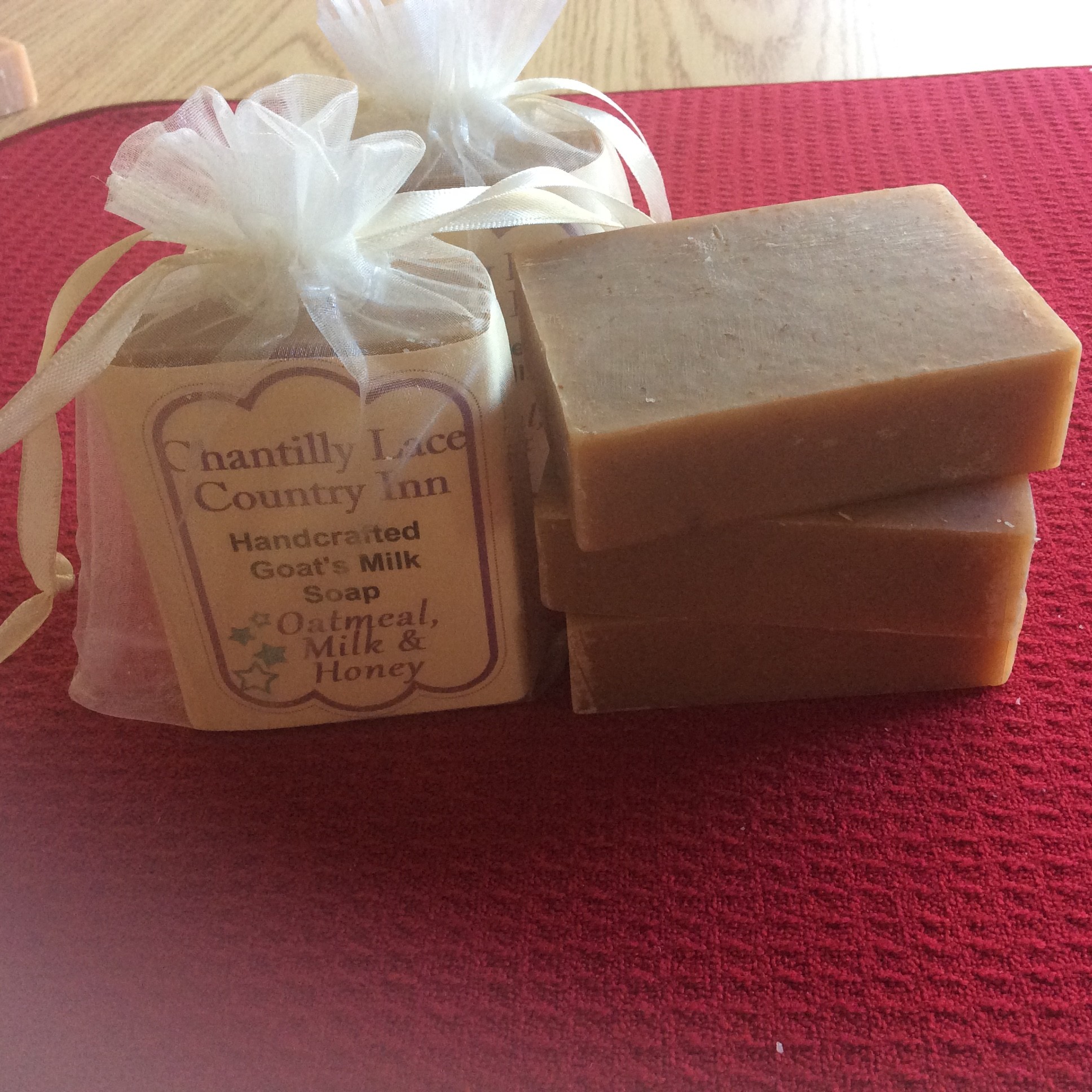 Oatmeal, Milk & Honey Goat's Milk - One of the most popular! Oatmeal added for it's gentle cleansing and exfoliating properties. Wonderful aroma.$5.50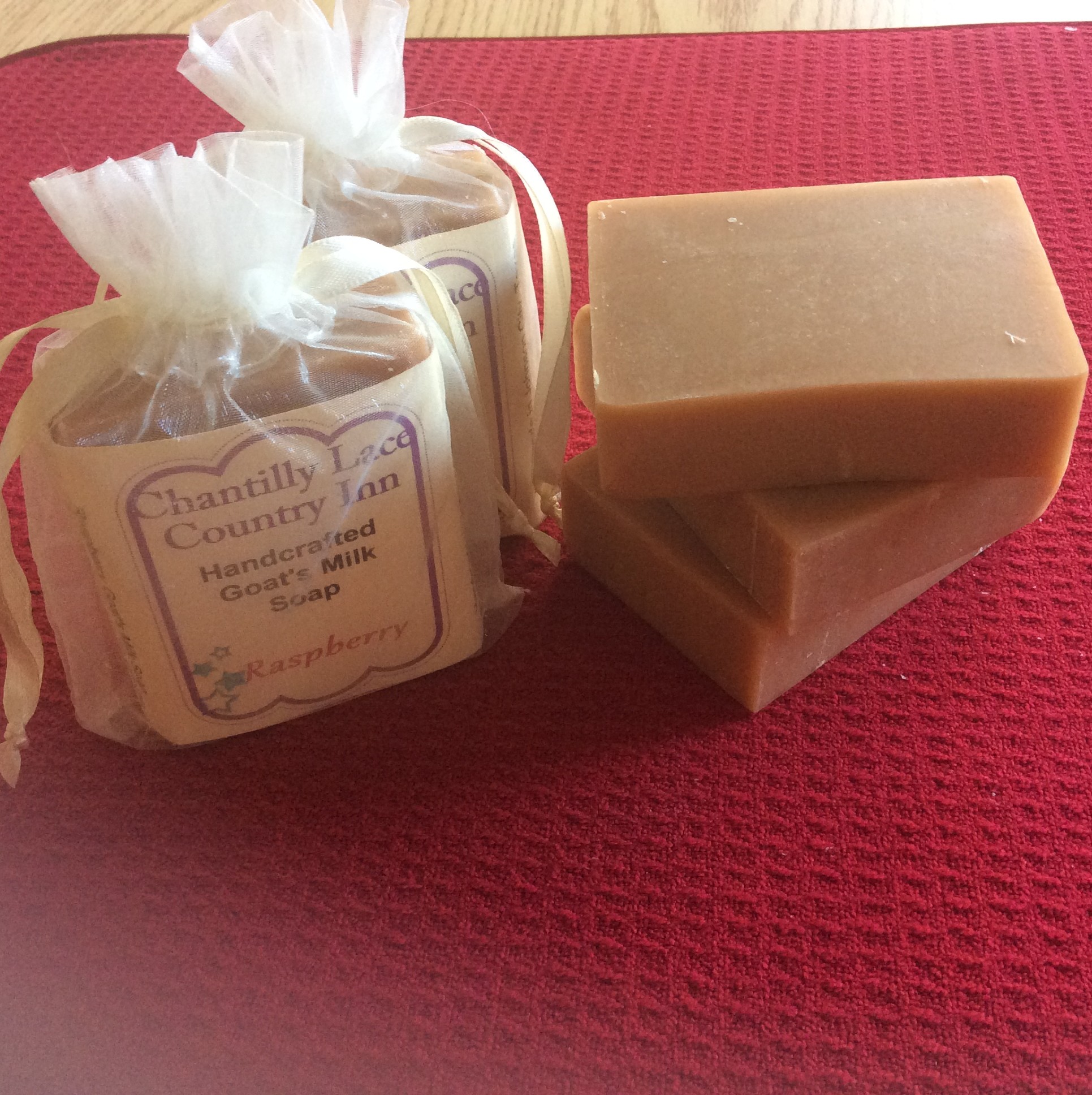 Raspberry Goat's Milk Soap - Another goat's milk with a true raspberry aroma.$5.50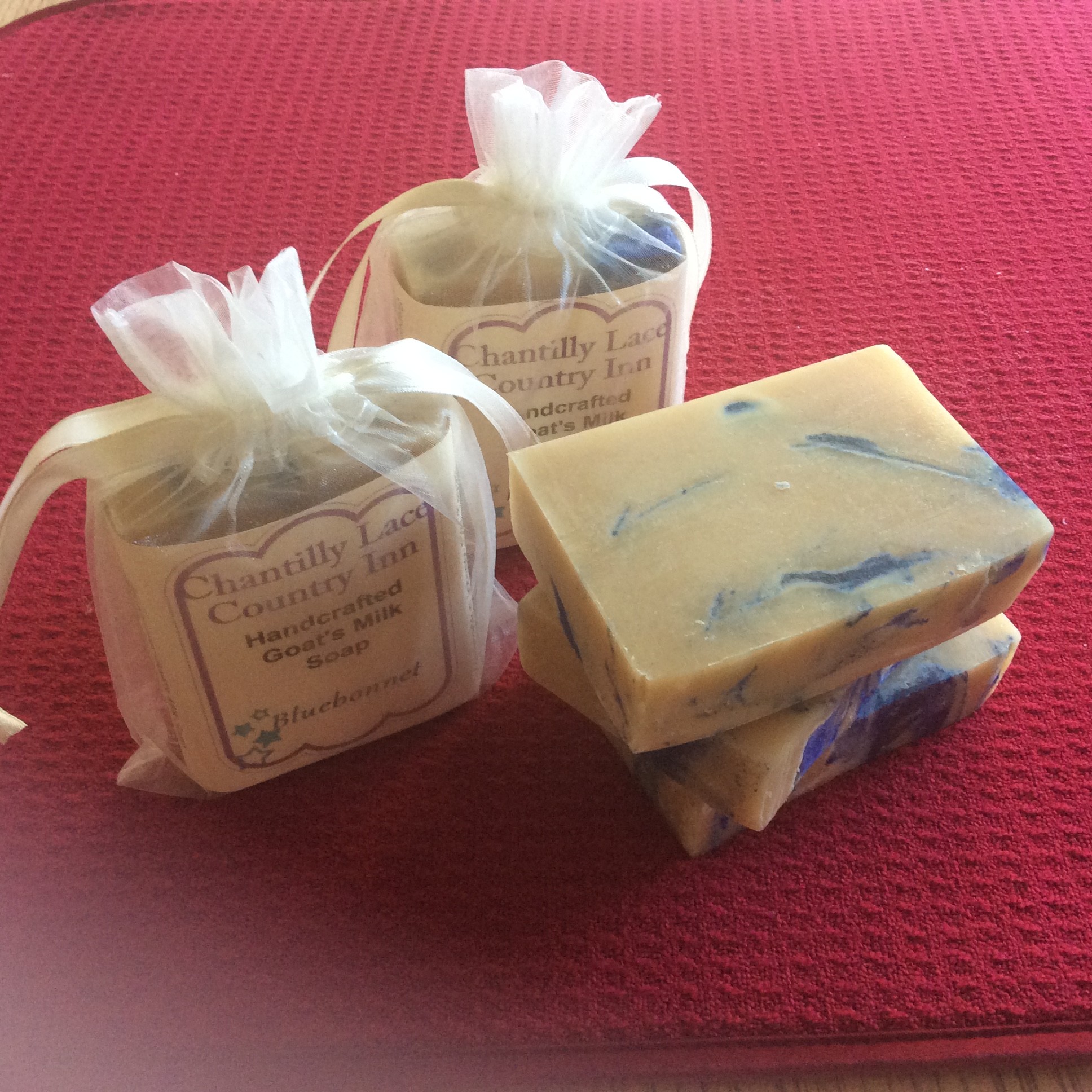 Blue Bonnet Goat's Milk Soap - Hill Country Texas bluebonnet goat's milk soap is mild and moisturizing with a sweet floral scent.$5.50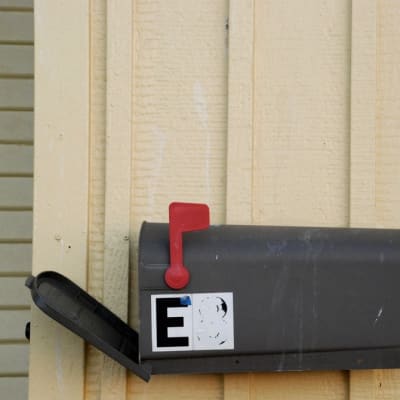 Shipping Policy
Shipping Policy
MINIMUM ORDER REQUIRED - THREE (3) Bars of Soap
United States (48 contiguous states). Orders shipped within the continental U.S. will be sent via United States Postal Service (USPS).

Order Total Shipping Charge
$14.85 - $19.80 $5.25
$19.81 - $34.65 $7.25
$34.66 - $49.50 $9.25
$49.51 - $64.35 $11.25
over $64.36 ($65.00) Free with purchase of 13 bars

Attention International Customers:
Payment Policy
We cannot accept credit card orders outside the United States. Please pay using cashier's check or money order in U.S. Funds.
International orders will be shipped in 4-6 weeks.
Sorry for the inconvenience.
Shipping Policy
Please note that additional postage may be added where appropriate for orders outside of the continental U.S.
Freight on all International Orders are FOB Johnson City, Texas. Freight charges will be added to the orders as they are shipped.

You May contact Chantilly Lace Soaps by:
MAIL:
Chantilly Lace Soap Company
P.O. Box 1716
Johnson City, Texas 78636
E-MAIL:
chantillylaceinn@verizon.net
PHONE:
1-830-660-2621 or 1-830-637-9080